Some people, like me, love to play with a good old butt plug. But there are times when you start to ask your self, what other type of butt plug can I shove up my ass. In situations like that, it would be nice to know what types of butt plugs are out there. Here you can find some of the most comment type of butt plugs, because there is no way in hell I could list all of them.
Typical butt plug
This is the butt plug that most of us already tried out. It have thin tip which is wider in the middle, a notch to hold it in place once it is inserted, and a flared base to prevent complete insertion into the rectum. It can be made out of various material alike latex, metal, wood, glass, silicon, neoprene and even stone. I prefer the silicon one, because I can simply disinfected in in boiling water.
Huge Butt Plug
Huge butt plug is for serious anal play and it shouldn't been used by amateurs. Most of them are as large as coke can, others measure even up to 9 inches in length and  7 inches in circumference and 2.25 niches in width. If this is not huge butt plug, then I don't know what it is. Depart from normal butt plug, huge butt plugs tend to be in various shapes and forms. Excellent example of a huge butt plug like that would be "Bumps for Your Rum" butt plug.
Butt plug with tail
Butt plug with tail is just like typical butt plug with a special twist. This butt plugs have an different animal tail attached at the base of a plug. This plugs are usually used by people that enjoy animal role playing. With this plug is really easy to add some authenticity to pony play, pup play and other kind of role playing. Most often types of butt plugs with tail are: Pony tail butt plug, fox tail butt plug, bunny tail butt plug, devil tail butt plug, dog tail butt plug, cat tail butt plug, pig tail butt plug and some other more rare types.
Anal hook
Anal hook is not your average butt plug. Some will even say, this is not butt plug at all. This plug looks like fishing hook and is made out of stainless steel. Hook usually have 1,5-2 inches ball on insertable part and o-ring on the other. Some say that it looks quite terrifying and I have to agree. Anal hook is commonly used in bondage fetish, where master insert anal hook in to slave's anus and secure the hook with rope. Rope is commonly tied to slave's neck or some other surface. A lot of caution recommended when using anal hook.
Jewelry butt plug
This is real bling bling butt plug. Jewelry butt plug is usually made out of stainless steel and looks just like regular butt plug. The only exception is flared base that is decorated with  some kind of gem or ornate sculpture. Jewelry butt plug is often smaller and there for suitable to wear it for extended amount of time. It's designed more for show then pleasure.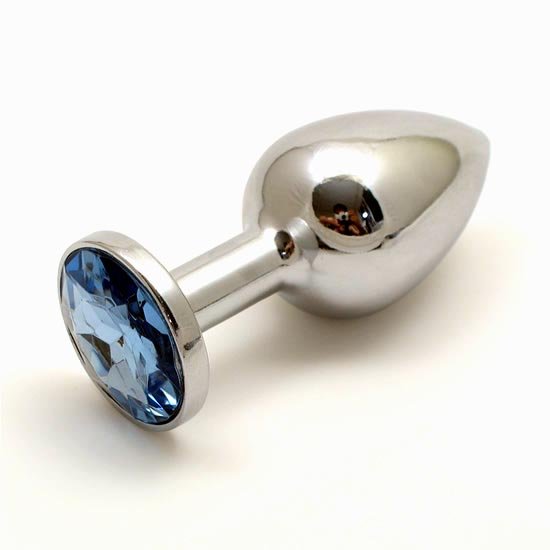 ElectroSex butt plug
ElectroSex butt plug is one electrifying sex toy. This butt plug in most cases looks just like any other anal plug, only that this ones can plugged on power unit that creates electrostimulation. This is specially made for  e-stim lovers. They are not everybody cup of tea, but some seem to love it.
Vibrating butt plug
Butt plugs are mainly un-vibrating anal toys, but they are some exceptions.  Vibrating butt plug is butt plug just like any other with small difference. They have  build in vibrator that can  provide you with dynamic sensation. If you enjoy good vibrations, this is the anal plug for you.
Inflatable butt plug
Inflatable butt plug is a plug of his own. They are made the way that they can expand when they are in your anus. You can inflate the plug by squeezing  pressure bulb as long it reach the desired size. Inflatable butt plug is a good choice if you want a butt plug that will really fit you. With inflatable butt plug you can always get a perfect fit.
Ejaculating butt plug
Ever heard of ejaculating butt plug? Well, they are pretty rare, but that doesn't mean they are any less fun. Ejaculating butt plug have a small tube inside head and squeeze bulb on the other side. By squeezing bulb you can suck up warm water in to plug and simulate orgasm. If that is your thing, then go ahead.
Butt plug with cock ring
Butt plug with cock ring is plug with double role. The cock ring can help male to have longer erection, and the butt plug part makes sure male is also getting some action while penetrating in to partner. Butt plug with cock ring is normally made out of pvc or metal. If you like double action, this is the butt plug for you.
Prostate massager butt plug
Prostate massager butt plug is special butt plug designed for men. With the help of this plug, men can directly stimulate there prostate. Prostate massager butt plug have a curved design, so it's easier to locate and massage prostate. This plug doesn't have usual flare base, instead of that, plug usually have handle, that makes use of this plug much easier.
Well, this are almost all common types of butt plugs. Over the years I stumbled upon many different style and materials butt plugs are made of. I will try to add more types of butt plugs with the time.